Do Great Things: Applying Proven Entrepreneurial Methods to Achieve Success in Every Day Life is now available in bookstores everywhere.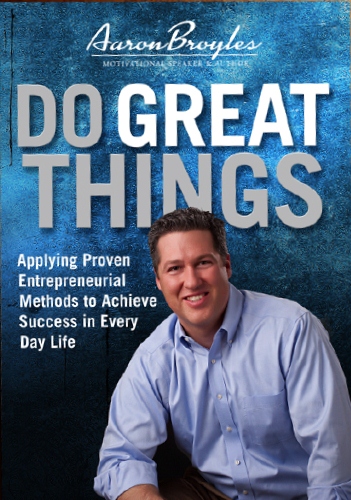 If you could do whatever your heart was designed to do with complete fulfillment, excitement, passion and adventure without the possibility of failing, would you do it?
Often we are intrigued by high-profile people and entrepreneurs who have done great things. Why are we so fascinated? Perhaps it's a desire to experience greatness firsthand. It's easy to recognize the accomplishments of others, but have you ever considered your own capacity to Do Great Things?
Successful entrepreneurs excel in creating vision and inspiring others. They are driven, efficient and passionate. They are able to overcome and to use their fears to their advantage. They have the ability to turn defeat into opportunity–and so do you!
In Do Great Things, author, speaker, and entrepreneur Aaron Broyles points you to a foundation of self-discovery based on God's principles and truth. He examines how environment and backgrounds differ, thus affecting our attitudes and desires as well as what our beliefs and rules for success are based upon. By sharing proven entrepreneurial methods, Broyles will help you see your potential and your ability to achieve success in your everyday life.
Desire to know your purpose. Stop putting limits on your life. Your definition of "great things" is about to take on new meaning!
Click here to see the Do Great Things book at Amazon.com
Click here to see the Kindle version of Do Great Things at Amazon.com
Click here to see the Nook version of Do Great Things at Barnes & Noble
If you are interested in getting a personalized copy of Do Great Things, send an e-mail to info@broylescompany.com